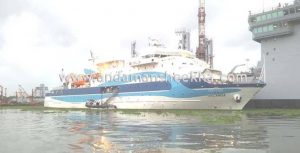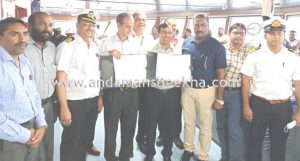 John Wilbert &Vikramaditya
Port Blair, July 06: The Cochin Shipyard Ltd. has delivered 'MV Nalanda', a 500 pax passenger-cum-150 MT Cargo Vessel built indigenously for Andaman and Nicobar Islands. The Protocol signing & handing over ceremony was held on board the vessel at Cochin Shipyard yesterday. The world class ship will prove to be a boon in Shipping Service for the far flung Islands.
The Protocol documents were signed by officers of the Director of Shipping Services (DSS) in presence of SCI officials, representing A&N Administration. The vessel is expected to sail from Cochin before 16th of July on completion of the necessary audit by the Shipping Corporation of India.
As per details, the Vessel 'MV Nalanda' has a length of 99.87 mtrs, breadth of 17.50 mtrs and draft of 4.5 mtrs. The ship can attain a cruising speed of 16 knots per hour. It has 12 deluxe cabins, 32 first class cabins, 36 second class cabins, 74 seats and 346 Bunk class. Like MV Sindhu, this ship was also designed by Knud E Hansen Ship builders, Copenhagen, a renowned 80 years old Ship Construction Company.
When contacted, a senior officer of Directorate Shipping services said that yesterday the ship was officially handed over to the Directorate of Shipping Services, further it was handed over to Shipping Corporation of India SCI, it is learnt.
As per sources all crew members have already joined the ship and after successful completion of the audit, the ship will be ready to sail for Andaman.
"DSS and SCI are doing their best to complete the formalities as soon as possible. As per ongoing work within two weeks the ship will reach Andaman," sources told Andaman Sheekha Daily.
Now the final audit of MLC or Maritime Labour Convention is going to start which according to ILO provides a better perspective on the rights of a seafarer during work and a stringent environment for Ship Owners & Ship Managers to maintain the standards of living for seafarers serving onboard their Ships.