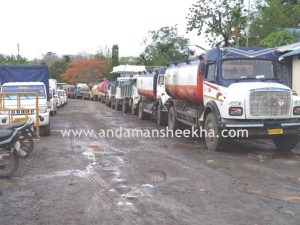 Ganeshan& John Wilbert
Port Blair, May 10: The frequent breakdown of vehicle ferry vessels in Middle Strait is causing huge delays and inconvenience for NH4 (Andaman Trunk Road) commuters. The breakdown of one of the two vehicle ferries today,being operated by Shipping Services, has left more than 50 cargo vehicles stranded at Nilambur jetty by evening, resulting in chaos at Middle Strait Jetty as well as Nilambur Jetty of Baratang Island.
ATR commuters have already been facing problems due to the slow movement of vehicles caused by the inadequate number of vehicle ferries on the Middle Strait route. People travelling to North and Middle Andaman have been demanding that there should be at least three vehicle ferries at Middle Strait, but only two vehicle ferries, MV Kadamtala and MV North Bay, have been operating in the area.
This morning, only one vehicle ferry, MV North Bay, was providing services due to technical problems in the ramp of the MV Kadamtala, which later stopped its service. As a result, ATR passengers were forced to wait several hours to cross the Middle Strait, and many children and elderly people faced problems due to the long wait without food.
The situation has become a serious issue for passengers traveling to North and Middle Andaman, particularly families with children, women, and elderly people who find it extremely difficult to wait for such a long time at Middle Strait. Mrs. Basanti Devi, a Zilla Parishad Member of PahalgaonMayabunder, said that she and many other passengers had to wait for more than 5 hours at Middle Strait jetty, which caused a lot of inconvenience to them.
Mr. Alagerswamy, Zilla Parishad Member of Baratang, said that the Directorate of Shipping Services needs to look into the matter as many people are traveling between North and Middle and South Andaman for various urgent works and many among them are patients.
He added that the administration should place at least three vehicle ferry vessels at Middle Strait to minimize the waiting time of vehicles and facilitate fast movement of vehicles across Middle Strait.
Mr. Alagerswamy said that priority given to oil tankers, which started during Covid-19 period, is still continuing, which is causing delays to ATR traffic everyday by one hour atleast. He demanded top priority to passenger buses and then to four wheelers of ATR passengers to reduce the public sufferings.