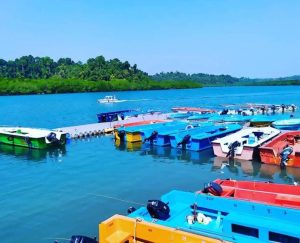 John Wilbert & Vikramaditya
Port Blair, May 18: The deteriorating condition of the floating jetty at Nilambur Jetty in the Baratang Islands has been a cause for concern among tour operators for several years, greatly affecting tourism in the area.
The floating jetty serves as a crucial entry and departure point for tourists traveling to the limestone caves through the mangroves. Its prolonged neglect and poor maintenance have resulted in a hazardous situation, with the jetty at risk of collapsing at any time or visitors potentially falling into the sea. To ensure safety, boat operators and staff have been providing hand support to tourists as they walk across the damaged jetty.
Given that the peak tourism season in Baratang runs from October to March, it is imperative for the administration to undertake the necessary repair work before the influx of tourists. Thousands of visitors rely on this jetty for embarking and disembarking from boats. Regrettably, the absence of handrails along the jetty exacerbates the difficulties faced by tourists, as stated by a local tour operator.
On a daily basis, more than 400 tourists visit the Baratang Islands, with the floating jetty being their sole means of accessing the boats that will take them to the limestone caves. Reports indicate that the jetty lacks proper railing and has sustained damages in multiple areas, posing a significant risk to tourists. To compensate for this, local residents had placed bamboo supports at both ends of the jetty during the visit of the Chief Secretary, which has also collapsed now. However, the floating section remains without any railing.
In the midst of this concern, Mr. R Alager Swamy, Zilla Parishad Member of Baratang Island, highlighted that Baratang is the second most popular tourist destination in the Andaman Islands. Over 500 tourists visit the limestone cave and engage in water activities. "Unfortunately, the current state of the floating jetty is far from ideal. During the recent visit of the Chief Secretary, the issue was brought to his attention, and he assured us that repairs would be carried out," he said.
Andaman Sheekha Daily contacted a senior officer from the Directorate of IP and T, who confirmed that the department is fully aware of the matter and has accorded it top priority. The Chief Secretary is actively monitoring the situation, and plans are underway not only for repairing the floating jetty in Nilambur, Baratang but also for other tourism jetties, including Aberdeen jetty, Corbyn's Cove, and North Bay jetty. Detailed assessments have been conducted, and the necessary repairs and replacements will be carried out promptly.