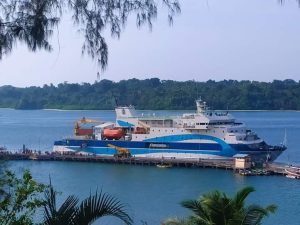 John Wilbert &Vikramaditya
Port Blair, May 24: The long-awaited solution for improved connectivity between the Nicobar group of Islands and Port Blair is set to become a reality soon. The Directorate of Shipping Services has taken proactive measures to enhance connectivity and cater to the needs of the islanders.
Recognizing the importance of preparing for future demands, the administration has initiated steps to strengthen the shipping sector by procuring new vessels. These upcoming additions aim to provide uninterrupted services to all islands, including the most remote ones.
In a recent interview with Mr. Kshirsagar Kishore Lakshaman (IAS), Secretary of Shipping, aired on AIR Port Blair, the significance of shipping services in the Andaman and Nicobar Islands was highlighted.
He shared that the administration has already taken several measures to enhance connectivity to the Nicobar group of islands, particularly with the South Andaman district. Furthermore, plans are underway to improve the services by implementing a Standard Operating Procedure (SOP). Under this SOP, a weekly schedule will be guaranteed, ensuring that one vessel will ply between Port Blair and Nancowry, another vessel will operate for Nicobar and Nancowry, and both vessels will touch all ports, including Katchal, Teresa, and Chowra. This comprehensive approach will enable people to avail the services conveniently and regularly.
To address specific challenges, the administration has introduced two harbor ferries in the Nancowry group and two foreshore sector speedboats – one in Campbell Bay and another in the Nancowry group. These additional modes of transportation will facilitate passenger transfers when large vessels such as MV Shindu or Nalanda are unable to berth at Teresa and Chowra Islands. Passengers can reach Nancowry Islands via the speedboat or harbor ferry and then continue their journey on the larger ships.
Another long-standing demand from the people of Katchal Islands is to have big vessels berth at Katchal Port. With the introduction of the "All Port Touch" service, vessels will now include Katchal Port in their itinerary, providing regular ship connectivity options. The speedboat service will also extend to Katchal Port, further improving accessibility for the local population.
In terms of cargo services, MV Chuglam and MV Badam Cargo Ship are available, along with other vessels like MV Shindu or Nalanda, which have a cargo handling capacity of 250 tons.
Mr. Kshirsagar further mentioned the need for a tugboat facility in Car Nicobar because in absence of a tugboat, the new ships, MV Shindu or MV Nalanda, are currently unable to berth at Car Nicobar Port.
To address this, the administration has recently taken steps to charter a tugboat, which has received approval. The tender process for acquiring an additional tugboat facility in the fleet has already commenced.