How we abuse our Freedom??
D J Venkatesh
Port Blair, Aug 14: Considering heavy demand of public, the Transport Department had started a special bus from Port Blair to Aerial Bay region of Diglipur, three years back, which brought smiles for villagers, living in and around Aerial Bay area.
But happy moment doesn't last long, all of a sudden, without any notice the Transport Department stopped plying the evening ATR bus upto Aerial Bay and started disembarking passengers at Diglipur Bazaar instead of Aerial Bay.
As a result, now the passengers of Aerial Bay or Durgapur or Kalipur are forced to stand at Diglipur Bazaar for availing Private Buses or autos, for which they have to pay exorbitant fare.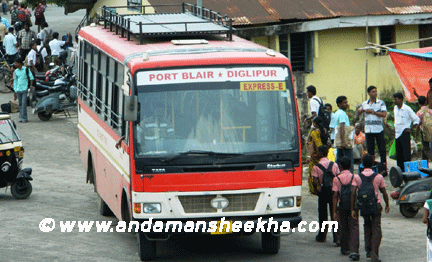 Fixing of any route permit is a policy decision but in the Transport Department, the policy decisions are being taken by the Middle Level Officers, that too without consulting with general public or public leaders. Same thing probably happened in this case also.
On being questioned about the irregularity, the In-charge STS Diglipur stated that due to non-availability of passengers, they are forced to operate the bus services upto only Diglipur Bazaar instead of Aerial Bay. "Moreover, buses coming from Port Blair, come with the Display Board of Port Blair to Diglipur instead of Aerial Bay.
But General public complain that this is just a lame excuse.
"We have no option other than availing auto or private bus to reach Aerial Bay, Durgapur or Kalipur. There is something fishy that when for the similar route, Private Buses get the maximum passengers upto Aerial Bay then why don't STS buses? May be there is some understanding between STS and Private Bus operators," said an aggrieved passenger.
The Secretary Transport must look into this matter and resume service of ATR bus upto Aerial Bay.
Comments