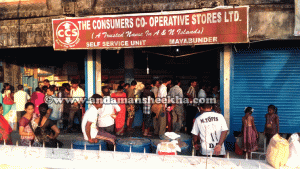 DJ Venkatesh & Muralidharan Pillai
Diglipur, Feb 28: Delay in distribution of sugar to ration card holders in North Andaman is leaving public upset.
According to details while in Diglipur region till today sugar was not issued to public but people of Mayabunder region were a little luckier. As per details sugar, which is a non PDS item since 2013, reached Mayabunder today and CCS started issuing sugar this morning, leading huge rush of customers.
When contacted sources in department of CS & CA told Andaman Sheekha that due to transporters' problem sugar could not be transported to Andaman on time.
However, due to tackling the problem in most professional manner the Department of CS & CA could solve the problem in no time. Sources said that consignments of sugar reached Andaman little late but today it has already been sent to North and Middle Andaman.
"While in Mayabunder sugar was issued today, it will be issued at Diglipur from tomorrow," sources added.