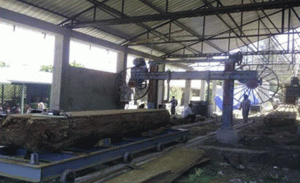 DJ Venkatesh
Betapur, Feb 02: Half-hearted move of authorities of Betapur Saw mill to go cashless has left people of North and Middle Andaman in deep trouble.
While Government of India is encouraging cashless transaction and have given dozens of options to public for payment at Betapur Saw Mill authorities believe that only Demand Drafts are best way to go cashless.
The Betapur mill is the sole distributer of Sawn timber for various purposes for whole N & M Andaman. The people from remote places like Diglipur need to visit the Betapur saw mill for sawn timber which is about 120 KM away.
After selecting timber as per requirement the one needs to go to Banks of Mayabunder or Rangat to make a Demand Draft which is more than 23 Km.
After reaching the person have to spend 2-3 hours more to make two Bank Drafts one for Sawn timber charge and another for sale tax.
The mill is not accepting cash. If anyone submits Cheque he has to visit again the mill after 3 days after encashment of the Cheque by the mill.
The duration further increases if any holiday falls in between, which further delays the process.
The mill is enforcing for the cashless transaction for sawn timber while on the other hand cash is accepted for saw dust which is quite strange and highest level of double standard, many believes.
The Saw Mill started functioning in 1956 and even today it appears as if the Saw Mill is still in Pre-Independence age. The process of indent filing, billing & documentation has been done computerized resulting in quick disposal & transparency but why POS machines are not yet installed is a big question.