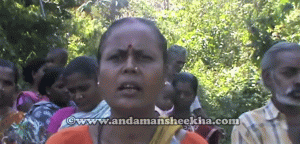 Sarthak Kanjilal & Rohan Lal
Port Blair, Feb 03: A large number of People of Guptapara area have expressed their resentment over the cancellation of Tender of a road at Guptapara by Zilla Parishad from HR Roy House to Shyam Singh House via Forest Camp.
As per the residents, the area never had a road and following public demand a tender was floated on June 30, 2016 for the work of the aforesaid road. The tender process brought hope for the remote villagers but to their utter dismay now they have been told that the said tender process has been cancelled for unknown reasons.
Talking to Andaman Sheekha, a resident of the area said that on the year 2004 the administration started the work but didn't complete the project, bringing more trouble for them.
"We are in a huge trouble as no public vehicle enter our area, aged people and pregnant ladies have to walk up to the main road," said a resident.
Talking to Andaman Sheekha, the Zilla Parishad Member of the area Mrs Minati Biswas, who is very disappointed over the cancellation of the project, said that she smells a rat in this entire issue. "Corruption could be a reason behind cancellation of this tender process," she added.
According to her when she asked authorities about cancellation of the tender, it was communicated to her that this has been done for lack of fund.
"There is a total foul play, I was also the Adhyaksha SAZP and I know that a tender cannot be floated if there is no fund," said Mrs Minati Biswas.
However, the villagers have now appealed the administration to interfere in the matter and come to their rescue.