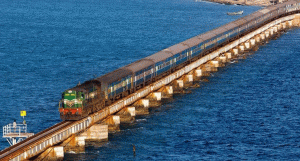 Staff Correspondent
Port Blair, Feb 08: The social media accounts of people of Andaman and Nicobar Islands are flooded with forwarded news regarding possibility of a rail line in Andaman soon, which will connect Diglipur Island with Port Blair. But the million dollar question is that will that project will ever become reality when the local Administration is finding it difficult even to keep Andaman Trunk Road open, which is the only road which connects North and Middle Andaman with Port Blair city.
In 2010 when the then Railways Minister Ms. Mamata Banerjee had announced in Parliament that Andaman and Nicobar Islands to get railway line from Port Blair to Diglipur people of these Islands jumped with joy. The project however, was dumped twice after that.
Former Member of Parliament, Lt. Manoranjan Bhakta was also a member of a Railway Convention Committee, which had proposed for such railway links decades back, even then the proposal was rejected.
The Rs. 2413.68 crore project, if become reality, will certainly transform the economy of Andaman and Nicobar Islands but with negative return rate of -9.64 how much the government will be interested in it.
In security point of view as the present MP suggest we need such rail lines urgently but it should not meet the fate of submarine optical Fibre cable project or Bambooflat Bridge project, about which we get promises every year but on the ground the progress is negligible.