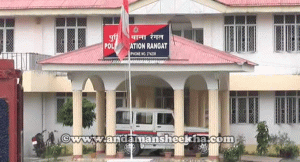 Sarthak Kanjilal
Rangat, Feb 09: In a yet another shocking incident at Rangat, a resident of Paranashala, Middle Andaman, who attacked his younger brother yesterday evening at around 05:00 pm, died when the younger brother tried self defence.
As per reports, the elder brother had an argument with his younger brother over his talking to his wife. Anguished over that the elder brother attacked his younger brother with a spear.
According to sources, during the fight between the two the younger brother also attacked back on self defence, which left both the brother severely injured.
After the fight both of them were taken to the hospital, from where the younger brother was referred to the GB Pant Hospital, yesterday night while the elder brother, who was supposed to be referred this morning, died this morning in Rangat Hospital.
Sources said that the elder brother had criminal records and he has earlier chopped the neck of his elder brother's wife and has also attacked his own wife once. Rangat Police Unit has registered a case in this regard and is investigating on the matter further.