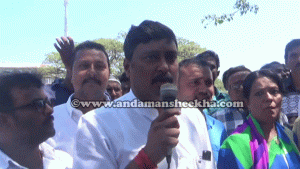 Sarthak Kanjilal
Port Blair, Feb 10: The Pradesh Congress Committee, Port Blair today held a mass protest in front of Port Blair Municipal Council against the unjustified changes in Property Tax and recently encroachment eviction drives in the city.
Huge number of Congress Party Workers participated in the protest. All the Senior Congress Party Leaders criticized the various move of the BJP run PBMC, which they claimed has disturbed normal life in Andaman and Nicobar Islands.
Addressing the gathering, the Chief Organiser, Pradesh Congress Seva Dal, Mr Noor Islam said that the property tax recently introduced is totally unjustified. He said that now the resident of the city will also have to pay taxes for their vacant land. He also criticised the way some shops were particularly targeted and demolished by PBMC.
He further said that the present Government also banned tobacco in these islands hitting the poor people hard but not Alcohol and Cigarettes because giant manufacturing companies are behind this.
"On one side the Modi Government says that they will provide power to every house and every part of the Country but here in Andaman the Power Cut are increasing day by day," Mr Noor added.
A number of Top Congress leaders in their speech criticized the Modi Government and BJP run PBMC for the recent amendment in property tax and encroachment eviction drives in the city.
The President, Pradesh Congress Committee, Mr Kuldeep Rai Sharma said that since long the Congress Party was running the PBMC but never the public faced any trouble or difficulties but the present Government doesn't bother about people of poor background and amendment in the Property Tax and encroachment eviction drives of the PBMC are an example.
"If the BJP run PBMC doesn't stop troubling the people, the Congress Party will hit the road and if necessary the party will go for a Chakka Jam protest and even can call a Bandh in the entire Andaman & Nicobar Islands," Mr Sharma said.