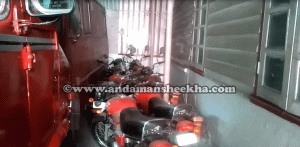 Staff Correspondent
Port Blair, Feb 14: The second largest department in Andaman and Nicobar Islands, the Postal Department is in news once again, this time for allegedly wasting tax payers' money.
It has been alleged that top authorities have misused power to loot public money in name of vehicle repair.
In 2008 nearly 10 bikes were sent to Andaman and Nicobar Islands only for Postmen, so that early delivery of mail is ensured. But for reasons unknown only two bikes were put in use while other two were sent to different post offices. Remaining nearly six bikes were kept inside the garage for nearly eight years without any kind of use.
After nearly eight long years the Postal Department suddenly felt like repairing the bikes and all bikes were sent to private shops for repairs. Surprisingly all bikes with different technical issues and faults were repaired with almost same amount of money. The post office received a bill of about Rs. 8000 for every bike.
Surprisingly even after such mega repair works the bikes were again kept inside the garage for reasons unknown, may be after few years again the bikes will be sent for another repair works.
When contacted the Head Post Master of India Post in Andaman Mr. Stephen Fernandez told Andaman Sheekha that this is not a major issue but some people are making an issue out of it.
"We have repaired the bikes so that all postal materials are dispatched at the earliest but the postmen here are not having driving licenses and even after asking them to make one most of them are not even getting a driving license. How can we give bike to staffs, who do not have a driving license," questions Mr. Stephen Fernandez.
However he failed to reply that if postmen are not having driving license then why decade old the bikes were unnecessarily repaired.
Adding to the pain, now two delivery vans of Postal Department have also been grounded for reasons unknown. It appears as if in absence of a full time Director the India Post unit of Andaman and Nicobar Islands has lost all directions and motivations.