News courtesy Andaman Sheekha ::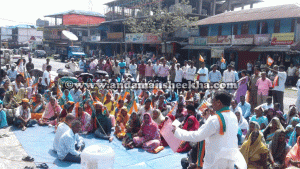 Sarthak Kanjilal
Rangat, Feb 14: A massive protest was organised by the Bharthiya Janta Party at Rangat against the administration for removing the old encroachments from various parts of Rangat region. More than 300 people took part in the protest.
The State President, BJP, Mr Vishal Jolly, Zilla Parishad Adyaksh of North and Middle Andaman Mr. Saw Tattu and Zilla Parishad Adyaksh of South Andaman Mr. Jaydeep Kumar Dey, Samity Members and other Party Workers took part in the protest. The party also protested against the ban imposed on Tobacco Products.