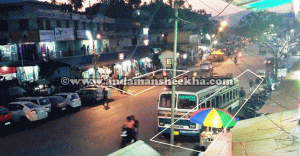 DJ Venkatesh
Diglipur, Feb 16: Lack of sufficient parking places for vehicles inside Diglipur Bazaar area has created a chaos in the region. Due to lack of proper parking planning, giant buses are parked right at the middle of the Diglipur Bazaar, which is become a major source of disappointment for the people of the area.
STS Diglipur has second largest fleet of Buses after Port Blair but even after 40 year of service the STS Diglipur Division do not have a Bus Terminus.
Earlier in the late 70's there was a wooden bus stand at the centre of the Diglipur bazaar. Presently there is no bus stand there, except two rooms
STS office, which is still waiting for expansion.
The land belonging to STS has been reportedly encroached by a restaurant owner and a Pan shop owner. As far as Diglipur is concerned, the administration has totally failed to provide basic facility for transport till now.
Surprisingly even PRI members of the area were never seen raising voice for having a Bus Terminus at Diglipur.
Both State transport service and private bus operators are now parking buses on main road, which creates traffic congestion particularly
in evening hours.
Although police unit of Diglipur has imposed challans on Buses for parking at the main road in many occasions in past, but still the open road, right at the heart of Diglipur Bazaar is used as Open Bus Terminus by both STS and Private Buses.
Such illegal parking by Buses not only causes inconvenience to road users but also bus passengers, who have to wait at the middle of the Bazaar where there is no shelter to protect them from scorching sun or heavy rain.
Although private shop owners accommodate a few passengers but during heavy rain giving shelter to all passengers becomes impossible.
The administration has got a Noble idea to convert the main road as bus stop at the centre of the Diglipur bazaar. The buses which are coming from Port Blair- Mayabunder, Rangat-Baratang,Ramnagar-Kalighat with halt, will park on the left side of the road near KR Medicals while the buses coming from Shibpur, Aerial bay will halt on the right side of the road, towards police booth side.
For this the existing car parking has been removed from the bazaar which was the prime place for car parking.
After this presently parking is available for only 8 cars in entire Diglipur bazaar as no further parking place has been planned for the cars.
In the year 2015 during Diglipur Vikas Mela the APWD showed a replica of proposed Bus terminus for Diglipur similar to Rangat Bus Terminus, which was rejected by the then Lt Governor. After that no progress has been seen in this regard. Poor management of parking place inside Diglipur Bazaar has left local residents fuming, who are now demanding proper town plan for the Diglipur Bazaar area.