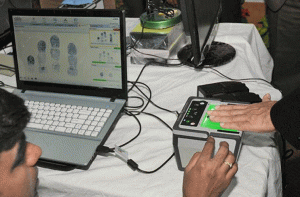 Sarthak Kanjilal
Port Blair, Mar 05: People, mostly from inter-islands, are facing huge difficulties for sudden halt in the process of issuing AADHAR card in Port Blair.
As per reports, a large number of people from far flung Northern Group of Islands like Rangat, Baratang, Kadamtala are coming Port Blair to make their AADHAR Card as such facilities are not available in North and Middle Andaman.
It is learnt that after getting the news that without AADHAR card people won't be able to get any subsidy and will be ineligible for government aided scholarships, more and more people are coming to Port Blair by spending huge amount of money but from Port Blair they have to return back empty handed as since last two days the process of making AADHAR card has been kept in a halt at Civil Supplies Department, Port Blair for reasons unknown.
However, Andaman Sheekha has learnt from insiders that the term of contract given to the Private Agency has finished, which is the main reason for this and also the UIDAI, Hyderabad has blocked the system of the Private Agency as most of the staffs of the private agency haven't cleared a particular exam.
Civil Supplies Department, no doubt has done great job by covering almost 99 percent people of the Andaman & Nicobar Islands and till date issued AADHAR numbers to around 3.90 lakhs people of Andaman but still there are many who felt the need of making an AADHAR card now and are reaching Port Blair from remote areas, just to return back disappointed. Hopefully the Department of CS & CA will resolve the issue as early as possible.