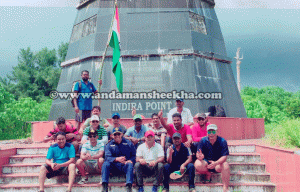 Port Blair, Mar 06: The Andaman and Nicobar Administration is presently planning to connect the Campbell Bay area of Great Nicobar with Indira Point, the Southernmost tip of Indian Territory.
In a press release the Assistant Commissioner of Great Nicobar Dr Mohd Rehan Raza today said that a road is being constructed by GREF by extending the existing Shastri Nagar road from 35 kms to the Galathea river Thru an over bridge which will be finished in few years from now.
He added that the total length of road is estimated to be 56 kms approx from the zero point Campbell Bay to Indira point and when this road will start functioning it will cater to all the tourists to this most sought after place, the southernmost tip of India, The Indira point.
Presently light house of Indira Point is being painted.
He added that Indira Point has huge tourism potential and it can be the biggest attraction for tourists visiting Andaman & Nicobar islands.
The whole inspection cum tour was organized by O/o A.C Campbell Bay with the support provided by Indian Coast Guard CGDHQ 10 and forest department (A&N Islands).
"The district administration is leaving no stones unturned in reaching the hitherto untouched areas as development and progress of the islands is the vision of the administration," the AC added.