News courtesy Andaman Sheekha ::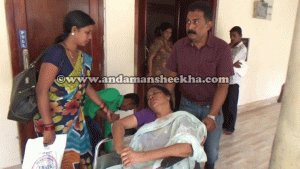 Sarthak Kanjilal & Y Naveen Kumar
Port Blair, Mar 07: In a Bollywood style robbery attempt three people, including one Burkha-clad lady today, entered a house at Nayagaon, posing as PBMC revenue staffs, and tried to loot cash and gold. But they were caught because of the alertness of a shopkeeper and other residents of the area.
According to the information, the Burkha clad lady and two men, today entered a house of Urmila Shanti Kumari, aged 70 years at Nayagaon, reportedly posing as PBMC revenue staffs and they also gave reference of the son of the lady.
After confirming that nobody is at home, soon two men out of the gang of three, attacked the old lady and took all Gold and Cash from the house. The gang of three also attacked and injured the old lady after tying her hands. The attackers also reportedly broke the tooth of the old lady and thinking that she is unconscious they left the house with the looted gold ornaments and cash.
The two men anyhow got on an auto to escape but before the lady could reach the auto, a shopkeeper, who is running general merchant shop in the ground floor of the house, caught hold of the lady. The shopkeeper was coming up, after hearing some weird sounds and screaming from the first floor.
Soon other people living nearby reached the spot and tied the burglar lady, a few also reportedly thrashed her. The crowd shocked to see that the lady who was wearing Burkha was actually wearing Vermillion on her forehead, who was later identified as Poonam Devi, a close relative of the old lady. Seeing the lady trapped the two men escaped from the spot.