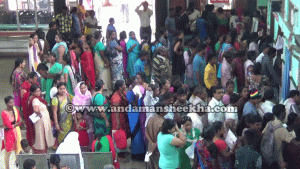 Sarthak Kanjilal
Port Blair, March 08: The new rule of making AADHAR card entry mandatory for all patients at G B Pant Hospital of Andaman has become increasing cause of discomfort for all patients, especially ladies and old citizens.
The Patients and attendants at GB Pant Hospital, who have to wait for several hours just to register their names for seeing a Doctor are now demanding to put more staffs at the registration counter so that patients, who are already in trouble, don't have to go through the present harassment.
As per reports, all the Patients coming for their check-up from today are being asked for their AADHAR card Number which is getting entered in the system might be for various reasons. While a press note was issued in past in this regard but today most of the patient, who reached G B Pant had no clue about the new development.
Many Patients and attendants standing in the long queue told Andaman Sheekha that they are not against any new change, which might be for the good, but before introducing new system, people must be made aware about the changes and the DHS should have put more staffs at registration counter. "No one visit hospital for amusement, everyone here is already facing health problem and now these patients are made to wait for several hours just to get their name registered. After registration there will be two more queues infront of Doctor's room and infront of Pharmacy," said a patient.
Hopefully the Lt. Governor will get time to look into such basic problems of common man and he will intervene into this matter.