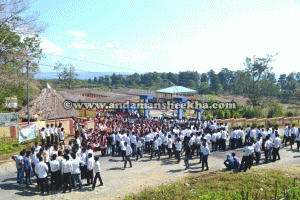 Muralidharan Pillai
Mayabunder Mar 09: The student of Mahatma Gandhi Government College today organized a strike infornt of the college to press their various long pending demands.
Students on strike today claimed that the management of the college is very poor and irresponsible towards the functioning of the college and they are ignoring routine problems.
According to student, the present session is going to end within one month but the college administration is still not permitting to organize the annual sports, annual day, study tours, youth festival and the students are also not able to take part in any kind of cultural activities.
One of the main problems raised by the girl students is that they have a generator which is under repair since last one year and both the hostels don't have any facility of clean drinking water.
The student demanded for a bus service from Diglipur and an ATM machine near to the college.
They also pointed out about the poor service of the canteen which is run by a private party and it has been allotted on tender basis but the canteen owner is reportedly not serving the foods at the prescribed rate.
Students claimed that even after 10 years of opening the college, students are still struggling for their basic needs like college books, drinking water, play ground, adequate lecturers and a good management.
The SHO, Mayabunder, Shri Aditya Narayan took initiative to maintain Law and Order and informed to AC (HQ) Mayabunder, who came to the spot and had a meeting with students in presence of Mr. Saw Tatu Adyaksha Zilla Parishad from 10.45 am to 01.40 pm and also with the principal, all lecturers and college administration staffs.
The students handed over the copy of 30 demands to AC and after going through all demands he directed the concerned authority to take initiatives to fulfill the problems within a stipulated time and he also directed the college administration to organize the annual sports, annual day, youth festival and cultural activities as it was organized till the last session.
The Strike was called off by students following assurance of the AC, Mayabunder.