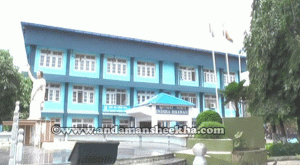 Port Blair, Mar 12: The Port Blair Municipal Council in its meeting held on 11.03.2017 took some progressive and people friendly decisions.
The earlier system of Property Tax was full of defects and there were lots of complaints about harassment of citizens and corruption in the whole process of assessment.
The progressive decision of Unit Area System of Property Tax was a welcome step to bring transparency, fairness and relief to the Citizens because there is no scope of any corruption in the new system and self-assessment system will end the 'Inspector –Raj'.
According to a press release issued by the Chairperson PBMC said that the Member of Parliament Mr. Bishnu Pada Ray in special meeting of the Council on 11.02.2017 suggested reducing the property tax and giving discounts for widows, handicapped, females and poor persons. Accordingly considering public interest at the highest pedestal and to minimum the tax burden, the following further reliefs have been given to the Citizens.
There will be no Property Tax on vacant land, there will be two categories with base rental value of Rs. 30/- and Rs. 20/- instead of earlier announced three categories of Rs. 50/-, Rs. 40/- and Rs. 30/-, widow women will get 25% discount, Handicapped persons will get 25% discount and all females will get 10% discount, on advance payment of property tax by 30th June, there will be rebate of 10%. As one time measure, citizens will have option to pay earlier dues of property tax by 30th June 2017 with above discounts and rebate.
The above measures have further reduced the burden of property tax by more than 50%. The Secretary, PBMC will issue a formal public notice about the revised Unit Area System of Property Tax in due course. The monthly rents of municipal markets were earlier increased from 01.07.2016.
After considering requests of allottees and market associations, the increased monthly rent has been reduced considerably in most of the cases, the monthly rent has been reduced by more than 50% and the reduced revised rent will be effective from 01.07.2016. In addition to the reduction in monthly rent, there will be 5% rebate for payment before 30.06.2017.
About 300 Daily Rated Mazdoors (DRMs) engaged in the PBMC since 31.12.2006 and before, will be given casual status with 1/30th pay plus DA. About 200 senior most Casual Mazdoors will be regularized against the vacant posts after obtaining approval from the Administration.
About 100 dependent persons of PBMC employees who died while in service will be engaged on muster basis in PBMC as preference on humanitarian ground so that their family can survive in harness. The Water Bye-Laws were also passed by the Council which has the provision for dispute redressal Committees to address the grievances of the consumers. The PBMC is committed to safeguards interest of general public and their welfare.