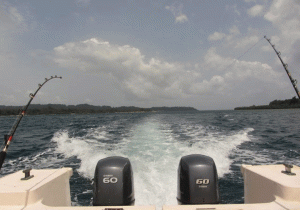 Sarthak Kanjilal
Havelock, Mar 07: After the Andaman Boat Tragedy on 26th January 2014, it was believed that the Andaman Administration has learnt from their past mistakes and has taken all possible steps to keep tourists safe at sea.
But it seems that, the Andaman Administration has again taken things too casually.
It has been learnt from reliable sources that some of the Game Fishing operators, who are having only the permission of Game Fishing are also facilitating Tourists with Scuba Diving, Snorkeling etc at Havelock Island.
Andaman Sheekha has learnt that, the Police Department, Disaster Management Cell etc. are having complete knowledge about these violations of the Game Fishing Operators but they are not able to take any action, since often such crimes are committed by nears and dears of top officials, sitting at Port Blair.
Insiders also told Andaman Sheekha that, some of the Diving Operators take tourists, very close to the Barren Island which is not legal as per the law and one has to go through certain formalities to do so.
When contacted top police officials of Havelock Islands were not in a position to comment on these issues.
Hopefully, the Andaman Administration will surely look into these issues and will take necessary actions so that the Tourist coming to these Islands, remain safe here.