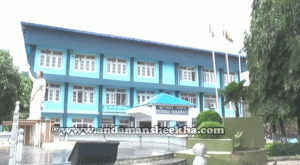 Staff Correspondent
Port Blair, Mar 16: The Port Blair Municipal Council in its move to generate more revenue has now decided to charge parking charges from all vehicles, which are parked in PBMC's parking zone.
As presently, almost all the parking areas inside city have been made PBMC's parking zone, the tourist vehicle owners, mostly youths are forced to pay parking charges multiple times in a day.
Many youths allege that on working days, even if they earn Rs. 600 to Rs. 1000 per day, they are now forced to pay Rs. 100 for parking and considering other charges for fuel and vehicle repairs, they are not earning anything now.
"We are not against parking charges. Infact we believe it's a good move but the PBMC must consider issuing some monthly parking passes for tour operators, who need to park vehicles in various parking areas throughout the day," said a tour operator.