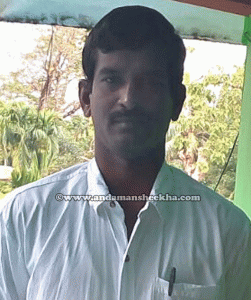 Port Blair, Mar 17: Ex-ZP Up-Adhyaksh of South Andaman Zilla Parishad, Mr. Anand Amrit Raj has alleged that poachers are looting sea sand and transporting Deers illegally for meat in Tushnabad area but instead of taking action against poachers the Forest Department is totally neglecting this issue.
Talking to Andaman Sheekha the ex-Zilla Parishad Up-Adhyaksh, SA alleged that in two different occasions, he had informed the senior officers of Forest Department about illegal transportation of sand and also illegal transportation of Deer by poachers of the area but according to him no action was taken from the side of Forest Department.
"Forest about taking action they reacted to the crucial input after more than four hours, giving enough time to the poachers to escape. In one case poachers was given all information about me, the informer, which clearly shows that there are someone inside the department who are helping poachers," alleged Mr. Anand Amrit Raj.
He alleged that in Tushnabad area Deer meat is openly available and everyone knows who are selling Deer meat but still no action is being taken by the department.
When Andaman Sheekha contacted PCCF office to get a comment on this issue Andaman Sheekha was informed that the PCCF will only be available even for a quote after Thursday.
In a place like Andaman where Lt. Governor and Chief Secretary ranked top officers are always available for public, top forest officials need five to six days even to reply to a question over phone. Doesn't this clearly say what is actually going on inside the department?