News courtesy Andaman Sheekha ::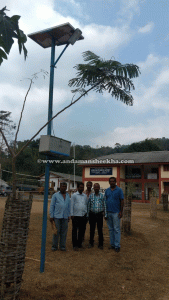 DJ Venkatesh
Ramnagar, 20 Mar: Ramnagar village which is under Sansad Adarsh Gram Yojana got new 20 number Solar street lights. The lights were installed and maintained by Andaman & Nicobar Island New and Renewable Sources of Energy (NRSE) Division, Prothrapur, which is a Division of A & N State Electricity Department.
These lights were installed at various places in association with the Pradhan Gram Panchayat, Ramnagar. These low maintenance light illuminates after sunset and switches off early morning.
Mr. Swapan Biswas, Pradhan, Ramnagar claimed that large number of people are now eager to know the benefits of solar –run equipment like solar lanterns, solar home-lights, and solar water heater. Last month the NRSE installed 20 Nos Solar Street lights at Ferrargunj under SAGY with the assistance of the Gram Panchayat Ferrargunj.