News courtesy Andaman Sheekha ::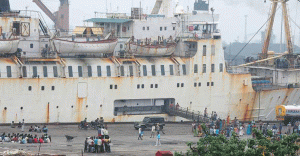 Sarthak Kanjilal
Port Blair, March 29: Passenger Vessel MV Harshawardhana arrived Port Blair from Kolkata yesterday morning at around 05:00 pm with around 500 passengers. Sources said that out of these 500 passengers nearly 350 were non-islanders, mostly labourers and food stall vendors.
This pattern is reportedly continuing since last many months which shows clean patter of influx of population from West Bengal region. The number of people reaching Andaman in every ship is high that it is now becoming difficult for investigating agency to keep an eye on every arriving passenger.
At present a very small team of Special Branch CID has been posted at various ports to keep an eye on outsiders who are arriving Port Blair via passenger vessels.
As per experts, most of the people who migrate from Kolkata, are from the 24 Paraganas and North Paraganas, which is the border to Bangladesh. According to the sources, these people arrive to Kolkata from Bangladesh and anyhow manage to create fake documents that they belong from India and then for a job they come to Andaman & Nicobar Islands and vanish in remote Islands.
It is learnt that most of the people who migrate to Andaman and mostly who are Bangladeshi never return back to their hometown. Many people among them get local documents with the help of local politicians and become Islanders in 10-12 years.
Such indirect Influx, especially from Bangladesh, is a major threat for Andaman and this is high time for the Administration to take some preventive steps to check this.