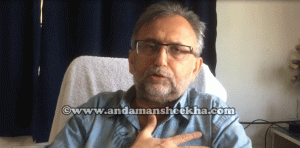 Sheekha Bureau
Port Blair, Apr 30: The Andaman and Nicobar Administration has put a ban on sports fishing from May 1, 2017, leaving Andaman's tourism industry under great shock but the Andaman's Tourism industry is still hopeful that the Administration will soon review and defer this decision.
As per sources this ban has been imposed considering the security threat to our islands but the administration has not clarified yet that how game fishing can be a threat to Andaman's Security.
However people connected to Andaman's Chamber of Commerce and Tourism Industry believe that safety measures to neutralize security threat can be taken without disturbing the local tourism industry.
"I don't think there should be a security threat but we can put in place measures which will ensure that the boats that go out, take proper permission, which they are taking anyway. The number of people they are taking out with their names, can also be submitted," said Mohd. Jadwet the former president of Andaman Chamber of Commerce and Industry (ACCI).
He said that all these boats can be put with equipments with which, Administration can track movement very easily sitting at one place at Port Blair.
I think measures can put in place to ensure that the security of these islands is not threatened. We also don't want any security to be threatened but we also don't want safety of the boat and people are threatened. We are with the administration in this issue but we would like that such decisions are taken after proper consultation, so that we also prepare something, which could be full proof.
He said that local game fishing industry is growing very fast and presently it is having an estimate value of around 10 crore rupees per annum. He said that tourist from Europe and other parts of this world come to Andaman for game fishing with prior bookings and such ban will disturb their itinerary and bring bad name for Andaman Tourism.