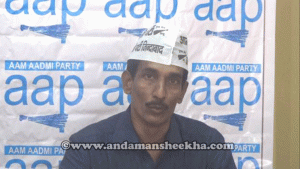 Port Blair, April 02: The In-charge, Aam Aadmi Party, Andaman & Nicobar Islands demanded investigation on the entire EVM Machines in the Country as according to him there is tampering on all the EVM Machines.
Addressing the media persons at Hotel Dayasagar, Prothrapur today at 03:00pm Mr Meshack said that a Voter Verifiable Paper Audit Trail (VVPAT) machine used during a trial in Madhya Pradesh only dispensed slips with the BJP's poll symbol, and demanded the Election Commission to probe the "tampering" of electronic voting machines (EVMs).
He said that "tampering" of electronic voting machines might be done during the last five states elections. "It is not understood whether machines are voting or People," Mr Sanjay added.