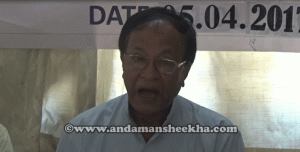 Sarthak Kanjilal
Port Blair, April 05: The Home Minister of India, Mr. Rajnath Singh, is arriving Port Blair tomorrow for a three day visit to Andaman and Nicobar Islands.
People of the Islands have kept a lot of hope from the Home Minister that various demands pertaining to the Islands will be fulfilled by the visit of the Home Minister.
In a Press Conference held at the MP Office this morning at around 10:30 am, the Member of Parliament Mr Bishnu Pada Ray said that a charter of demands will be kept in front of the Minister and hopefully most of the demands will be fulfilled by the Home Minister.
He said that the demands like implementation of 1/30th pay plus DA should be given to the eligible DRMs of various departments like APWD where 2773 DRMs are eligible, 42 DRMs at Health Department, 50 DRMs at Animal Husbandry, 08 DRMs at Fisheries Department, 37 DRMs at Agriculture, issue of patta to the land that has been occupied by the islanders before 1961, 13th month salary to be given to the Fire Brigade personnel, all kind of facilities to be provided to the 325 recently regularised Home Guards etc.
Besides this tsunami land compensation will be taken up prominently by the MP it seems.
"Compensation @Rs.9.39 lakhs per hect without insisting of surrender of their land submerged during Tsunami to the 1203 cases may be settled costing amount to Rs.35 Crores," the MP said.
He also added that the farmers who surrender their land and taken compensation may be reconsidered to release back the surrendered land by treating the compensation amount as relief package.
MP raised this issue in parliament on several times on 07.12.2009, 26.04.2012, 16.05.2012 and 09.08.2012 and also wrote letters to the President, PM, HM during UPA-II.
Not only this Mr. Rajnath Singh when he was National President BJP had announced in public meeting at Andaman that "if the BJP come into power, compensation will be granted as relief to those affected farmers who have lost their land due to Tsunami during 2004, without surrender of land."
Earlier, the A & N Administration had paid monetary compensation @ Rs.9.39 lakhs per hectare as compensation to tsunami hit farmers in lieu of their submerged land since July 2012, which had become a major issue.