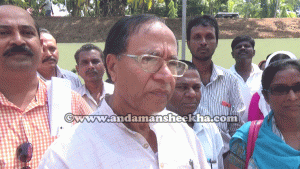 Sarthak Kanjilal
Port Blair, April 06: Worried over non-up-gradation of Sagritara School upto class X Standard, parents of Sagritara School students met the Member of Parliament, Mr Bishnu Pada Ray this afternoon.
As per reports, the Sagritara School has collected certain amount from the students of the school for the up gradation of school upto X Standard but as till date the school has not been upgraded, worried parents today gathered in front of the school asking about the status of up-gradation as most of the school have already started the sessions of 9th and 10th standard.
After knowing that the School has yet to get an affiliation from CBSE till 10th Standard the delegation of parents then moved to the MP Office requesting the MP to intervene into this matter.
Andaman Sheekha learnt that the MP was already aware of the issue and he had earlier taken up the matter with the Ministry of Human Resource Development (MHRD), Government of India.
Talking to Andaman Sheekha, Mr Bishnu Pada Ray said that as per guidelines for affiliation till class 10th the school must have a land of around 1 hectare which the school don't have, which is the reason behind non-affiliation.
The MP assured that he has taken up the matter and he is hopeful that within one week the school will get affiliation.