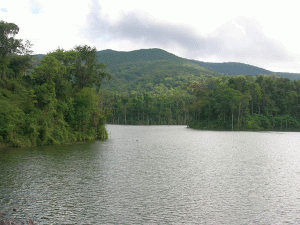 DJ Venkatesh
Diglipur, April 07: Poor rainfall since last one year in North Andaman, has forced the farmers of Diglipur to steal water from Kalpong River.
Usually up to the storage location at Khudirampur, lifting of water is banned in Kalpong River.
Now as most of the farmers are facing water shortage in their fields many of the farmers presently could be seen lifting water from the river using water pumps in late nights for their field.
As this current year rainfall was poor, the NHPC dam on Kalpong River was not filled up to its full capacity and the river level is also said to be low, forcing the electricity department to cut the power time to time.
Public allege that lifting more water would affect the river ecosystem and also hit the farmers in the downstream areas, who might lose their share of water.
Meanwhile, today the Settlers offspring welfare organization requested the Assistant Commissioner Diglipur to allow the farmers to lift water at Sitanagar, R K Gram and Khudirampur villages as there is sufficient water available at Kalpong river at downwards side for the utilization of Rabi crops and plantations. The organizations requested the Commissioner to allow the farmers to utilize that water for this season.