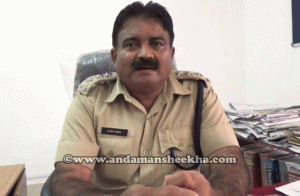 Sarthak Kanjilal
Port Blair, April 11: The Traffic Police Unit, Andaman & Nicobar Islands has imposed more than 4500 challans in the last three months and collected an amount of Rs 25 Lakhs from the fine imposed to the Traffic Violators.
As per reports, 4500 challan in just three months is a new record. Talking to Andaman Sheekha, the Deputy Superintendent of Police, Traffic Police Unit, Mohammed Umar has warned the Traffic Violators and appealed them to obey the traffic rules.
Mr Umar said that the Traffic Police Unit is putting all possible efforts to manage the traffic in the entire Port Blair City. He said that one side parking at Bhathubasthi with Traffic Police Personnel all the time has come with a big relief to the public.
Mr Umar said that under the guidance of the higher officials of Andaman Nicobar Police especially the DGP, the Traffic Police Unit has been strengthened and the unit is trying its level best to keep the road users safe on roads.