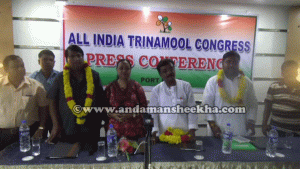 Sarthak Kanjilal
Port Blair, April 12: The All India Trinamool Congress Party today claimed that the TMC will not only contest but also win coming Lok Sabha Election in Andaman & Nicobar Islands. However, the Observer of TMC Mr Biswapati Biswas said that the name of the MP Candidate of TMC will only be finalized by Mamta Banerjee.
The All India Trinamool Congress Party which was inactive since 2014, after a shameful defeat in last Lok Sabha elections, will now be active in the entire Andaman Nicobar Islands as the party will soon be finalizing the name of President and convenor of TMC's A & N unit.
Addressing a Press Conference at Hotel TSG Emerald, Phoneix Bay at 10:00 am, Mrs Anita Mondol and Mr Biswapati Biswas, Observer of TMC, Andaman & Nicobar Islands said that after returning back to Kolkata they will be suggesting the name of Mr P Cheku and Mr Ayan Mondol to the party high command to select them as Party President and Convener of the Andaman & Nicobar Islands, respectively.
The Observers said that the party will definitely contest in the coming MP election and will also try to contest in the coming Municipal and Panchayat Elections. "The talks are on with many BJP and other party workers and many will be joining the TMC very soon which cannot be disclosed now," said Mrs Anita Mondol.
"Under the guidance of Ms Mamta Banerjee the party will not only contest the coming MP election but the party will also win the election," said Mr Biswapati Biswas. However, the Observers of TMC didn't disclose the name of the TMC MP Candidate of Andaman Nicobar Islands but said that the candidate will be an Islander.
It might be known to everybody that Mrs Anita Mondol is the daughter of Late Manoranjan Bhakta who was the MP of the Andaman Nicobar Islands for 08 times and Mr Ayan Mondol is the son of Mrs Anita Mondol.
Talking to Andaman Sheekha, Mr P Cheku said that if the party will give him the responsibility of Party President of these Islands, he will fight in soaring airfare issue and water shortage issue.
Further Talking to Andaman Sheekha, Mr Ayan Mondol said that he will follow the path of his grandfather Late Manoranjan Bhakta and be in touch with the public of the islands to solve their issues.