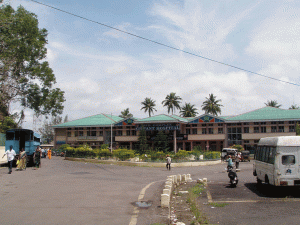 Sarthak Kanjilal
Port Blair, April 17: Several youths have been detained by the Aberdeen Police Station for manhandling a cop, who was on duty, at GB Pant Hospital this evening at around 09:00pm.
As per reports, around 20-25 youths reached the GB Pant Hospital for treatment of their friend's father. According to Sources, during the dressing the ward boy asked all the youths to leave the dressing room which was overheard by the youths, following which the Ward Boy reported the matter to the Police Unit of the GB Pant Hospital.
Sources further said that the Youth also misbehaved with the very small police unit of GB Pant Hospital following which the matter was reported to the Aberdeen Police Station after which the DySP, SHO Aberdeen Police Unit along with a team reached the Hospital where again an argument took place between the Police and the Youths and during this arguments a cop was manhandled by the youths.
It is learnt that a case has been registered against several youths for manhandling cop on duty. Further details are awaited.