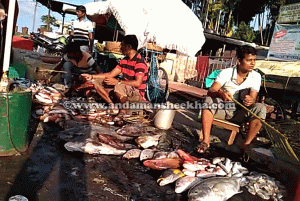 DJ Venkaktesh
Diglipur, May 3: The new fish market, which was constructed spending more than Rs 60 lakh rupees and was inaugurated by Deputy Commissioner, N & M Andaman at Ward No 5 at Subhash Gram, Diglipur is now lying vacant even after two months.
The fishermen and fish venders are protesting against shifting, arguing plunging sales at new market. Earlier, they had also organized a full day dharna at Diglipur bazaar with support of BJP Pradhans.
Now these fishermen have encroached a land in front of CHC Diglipur and selling the fish, in unbelievably unhygienic conditions near CHC and Kalpong River.
This market is hardly 80 meters from the CHC Hospital the largest hospital in Diglipur. The Tehsildar recently sent a letter to SHO Diglipur to watch and ward the new market instead removal of encroachment.
The Chief Medical Officer, CHC Diglipur has also written a letter to Asst Commissioner, Diglipur to make arrangements to remove the fish market at the earliest, which has been temporarily set near CHC causing health hazard.
Moreover this market is hardly 10 meters to the Kalpong river, which is the lone perennial river in the Diglipur Island. Due to the slope, the dirty waste water from fish market recedes daily into the river.
According to sources few fishermen sold fish at new fish market for few initial days but when they saw that the administration and Police department doing nothing to the people who have encroached land near CHC and selling fish, all have shifted to the CHC area.
The Swatch Bharat Abhiyan has gone for the toss at Diglipur now. Such illegal market is also causing traffic problems but some politicians are now playing vote back politics in this entire matter.
While many demands that the administration and police should focus in this matter and remove all the fishermen and send them to new fish market, which is exclusively built for them with basic amenities, there are many in Diglipur who are now openly supporting fishermen to operate from encroached road side area near CHC.