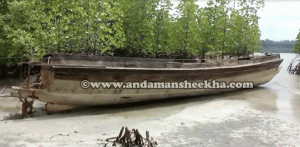 Staff Correspondent
Port Blair, May 05: Andaman and Nicobar Police has launched a combing operations in some of the remote Islands of North Andaman, after an abandoned foreign dinghy was found a few days back at Karen Nallah area of North Andaman.
On 3rd may a team of Police Marine Force of Diglipur on a weekly Anti- Poaching drive had seized a foreign made dinghy similar to Myanmarese dinghy, which was found partially submerged near Karen nallah area.
Investigations revealed that two foreign made engines, two diving suits and compressors were later also recovered from forest area close to the dinghy by the same team.
Following this a case was registered at Diglipur Police Station and a massive combing operation was launched to trace out people, who were in the dinghy.
"It is not possible to say how many people were there onboard the said dinghy but police team is searching forest areas of Interview Island, Gol tikrey etc." Mr. Ingit Pratap Singh, the Superintendent of Police of North and Middle Andaman told Andaman Sheekha today.
At present a team of 13 policemen, consisting two Sub inspector ranked officers including one Station House Officer, is combing North Andaman forest.
Remote uninhabited islands of North Andaman are often intruded by poachers of Myanmar, who are attracted by rich forest and marine resources of Andaman and Nicobar Islands.