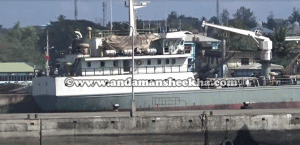 Sarthak Kanjilal
Port Blair, May 07: The Shipping Corporation of India has also failed to operationalise the Cargo Vessel MV Chuglum having a carrying capacity of 470 ton even after completion of drydock works, several months ago.
The owner of the Vessel Andaman Nicobar Administration had handed over the cargo vessel to the SCI nearly a year back after the owner of the vessel failed to operate the Cargo Vessel for several years due to reasons unknown.
Facing enormous criticism, the Andaman Nicobar Administration handed over the Cargo Vessel to the SCI expecting that the SCI will make the Vessel operationalise in no time.
But to the utter dismay, it is now more than 6 months the Cargo Vessel has come back from the Drydock but the vessel is berthed near the Phoneix Bay Jetty but it has not been pressed into service yet wasting crores of Tax Payer's money.
People those belong from the Shipping background alleged that just a formality is left for the ship that has to be completed but that has taken a very long time to get completed.
Several times Andaman Sheekha has tried to get a feedback from the SCI in the aforesaid matter but unfortunately all the time the SCI Authorities here have escaped to give a comment in the issue giving one or the other excuses.
The Andaman Nicobar Administration has also handed over nearly 17 speed vessels to the SCI as the DSS has also failed to operationalise those vessels too since years but again to the utter dismay nearly 08 speed vessels are yet to be put into service. The question here is, when all the speed vessels including Cargo Vessel MV Chuglum will be put into service as it is already more than one year the technical side is with the SCI.