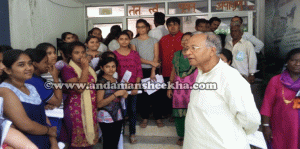 Port Blair, May 09: The NEET Examination 2017 (National Eligibility Entrance Test) was conducted through CBSE, New Delhi on 07th May, 2017 at different canters in various States as well as UTs including A&N Islands but in Port Blair students faced great difficulties in attending NEET exams due to total insensitive attitude of Andaman Nicobar Command.
Intervening into this matter the Member of Parliament of Andaman and Nicobar Islands, Mr. Bishnu Pada Ray has written a letter to Mr. Prakash Javedkar, Minister of Human Resources & Development and demanded to make an enquiry immediately on this issue and fix responsibility over the officials concerned.
The MP also requested not to declare KV No.2 at Minnie Bay as centre for any examination, in future.
In his letter to the Minister the MP said that in A&N Islands, two centres one at KV –II in Minnie Bay (a defence restricted area) and another at KV-I Port Blair (convenient civil area) has been declared as Centres for NEET Examination, 2017.
He added that the students those who attended NEET examination 2017 at KV-II centre at Minnie Bay faced tremendous difficulties since their parents with vehicles who are accompanied with the students were not allowed to drop their children near to the examination centre of KV-II school and the students have been forced to go by walk about 1.5 kms away from the main gate of the defence area to the Examination centre.
"Because of this inconvenience and non cooperation/assistance either from Defence or from A&N Administration, the students due to hurry up and tidiness in view of long distance of walking just before start of examination, they did not complete the papers nor wrote the examination properly," the MP wrote.
Mr. Ray added that in order to avoid inconvenience to the students for attending examination, the Centre Superintendent, KV No.2, Port Blair also wrote a letter on 02.05.2017 to the Commander-in-Chief, HQ, ANC, Port Blair with the request to allow the students to enter in the Minnie Bay area for attending examination on 07.05.2017.
"This letter has received/acknowledged by the defence officials and despite of that, no cooperation/ assistance/ transportation facilities/guide from main gate to examination centre so far has been arranged either by the Defence authority/ school or by the A&N Administration.
Soon after, knowing the above said incidents/difficulties faced by the students, the undersigned also talk with the officials of Education department to make necessary arrangements to sort out the problems but there is no response from any corner. This is serious negligence on the part of the A&N Administration and defence authority," the MP alleged.
He added that In Port Blair HQ civil area, number of schools available such as JNRM/Andaman College/Boys/Model Schools etc. which are convenient in all respect but despite of that, the examination centre has been selected in a restricted defence place.