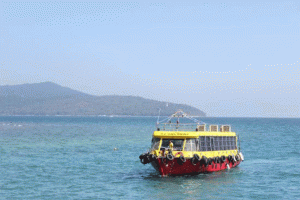 Staff Correspondent
Port Blair, May 12: In a major setback to Andaman and Nicobar Command the Port Management Board (PMB) has termed Levy of Charges at Ross Island Jetty by ANC as illegal, bringing great relief to local boat operators.
In a letter addressed to the Commander in Chief of ANC, the Chief Port Administrator of Andaman and Nicobar Islands recently mentioned that the Ross Island falls under Port area and Port Management Board is the Port Authority for A&N Islands, collection of berthing and conservancy charge from boats by any other agency is illegal.
The CPA added that Local tourist operators have represented time and again to the Port Management Board, Chief Secretary and also to the Lieutenant Governor, A&N Islands against collection of fees in the name of conservancy and berthing charge by Naval Incharge at Ross Island.
Requesting intervention of CINCAN to stop collection of berthing and Conservancy charges from the boats by Naval Incharge- Ross Island the CPA further added in his letter that every tourist entering into the Ross Island is being charged Rs.30/- per head by Navy towards Conservancy and Maintenance charge. The additional charges being collected from the tourist boats in the name of berthing charge for the jetty owned and maintained by Port Management Board is unjustified and also legally incorrect.
After release of this letter the boat operators have already stopped paying berthing and conservancy charge to the Naval Incharge at Ross Island but now boat operators have claimed that they keep getting calls from Naval Incharge at Ross Island, demanding berthing and conservancy charges.
Now the boat operators have made their mind to move to court to claim back all the amount they have paid till date to the Naval Incharge at Ross Island as berthing and conservancy charges, which has now been declared illegal.