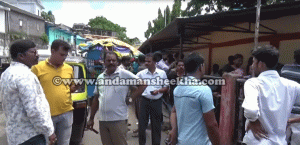 Staff Correspondent
Port Blair, May 14: A passenger ship, MV Campbell Bay, was sent for Great Nicobar, the Southernmost Island of A & N Chain, this afternoon but fuming passengers gathered at Haddo Port Blair had only sad stories to share.
Passengers, including those who couldn't manage to get a ticket in this ship alleged that due to unprofessional attitude and total insensitive approach of Administration people of Great Nicobar are suffering heavily.
Passengers allege that due to shortage of passenger as well as cargo ships there is heavy shortage of fuel and other commodities in Great Nicobar Islands.
They allege that this is not the first time when such shortage has been witnessed in Great Nicobar as earlier in many occasions people of Great Nicobar had suffered same problem.
"People of Great Nicobar are struck in Port Blair for several weeks as due to lack of passenger ships they are unable go back home. Many have no money to halt at Port Blair but they don't have any other options. Those who are at Campbell Bay are suffering because there is huge shortage of essential commodities due to lack of ships," said Mr. Sanjay Singh, the Vice President of Bharatiya Janta Party and a resident of Campbell Bay.
The residents added that if such issues continue in coming days too, people of Great Nicobar will go for a major protest for which only Administration will be responsible.
"There is no one to listen to our problems. The shipping department has one answer that they don't have ship. Where would common man go with their problems?" questioned Mr. E.S. Rajesh, Pradhan, Laxmi Nagar village of Campbell Bay.
When contacted the Deputy Commissioner of Nicobar District said that shortage of ship is the main reason behind such shortage but the problem will be resolved very soon.
"The problem is not intentional, there is actually a shortage of ships. I am hopeful that as soon as MV Coral Queen and cargo vessel MV Badam start their service for Great Nicobar, there won't be any more shortage of commodities at Great Nicobar Island," Miss Neha Bansal, the Deputy Commissioner of Nicobar District told Andaman Sheekha today.
At present most of the passenger vessel for inter island sectors like MV Kalighat, MV Sentinel, MV Chowra are out of service because of maintenance. Presently only one vessel MV Campbell Bay is providing service upto Great Nicobar Island but the ship is often sent to Mainland sector because shortage of passenger ship in Mainland Sector too.
MV Coral Queen have been brought to Port Blair on lease but due to problems in paper works the ship could not start its service yet.
As per public no cargo vessel was sent to Great Nicobar since last nearly 45 days and adding to the plight last two passenger vessels also could not carry much cargo, which created the shortage of commodities in Great Nicobar Island.