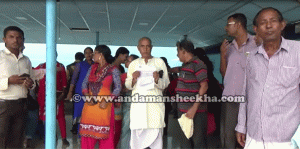 John Wilbert & Sarthak Kanjilal
Port Blair, May 17: Dozens of residents of Little Andaman today gathered infront of the office of Directorate of Shipping Services and alleged that because of large scale black-marketing of tickets, general public are not getting tickets for Little Andaman.
Expressing their anger on unavailability of Tickets for Little Andaman at STARS Ticketing counter, the residents allege that even if they come early morning and stand in queue for tickets they don't get tickets but shady people who sell tickets in black always have tickets to sell in black.
"We were informed that on 17 May tickets for Little Andaman will be issued but when we reached today we were informed that all tickets were issued on 16th May and till May 18 there are no other ships. Poor people of Little Andaman have no money to stay in lodges, will the DSS compensate to our loss," questioned an old resident of Little Andaman.
"They have VIP quota tickets, reserve quota tickets and also tickets for black-marketing but only for general public they don't have tickets even if there is a bigger ship for Hut Bay," alleged another passengers.
This is not the first time when residents of Little Andaman are expressing their anger against non availability of tickets, sadly there is no one to solve problem permanently.
Later a group of residents of Little Andaman reportedly met the Director of Shipping Services and shared their problem after which it was assured that for 130 passengers MV North Passage will sail tomorrow morning from Port Blair for Hut Bay.