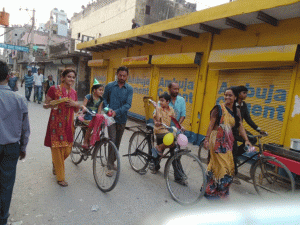 Staff Correspondent
Port Blair, May 19, 2017: 'Hindi Medium' , the film released today all over India alongwith this far- flung islands of Andaman & Nicobar has Swati Das in the main supporting woman character. The film is directed by Saket Chaudhary with Irfan Khan, Saba Qamar, Deepak Dobriyal and Swati.
Swati is grand-daughter of late BB Das and late P. Das who were brought to these islands in March 1949 for settlement by Govt. of India. Her Father was born at the desolated hills of Signal Pahad of Ports Mouth village in South Andaman in 1954. Having his early education in Boys' School, Middle Point, Port Blair, Professor (Dr.) Biswaroop Das got through his Higher Secondary from Car Nicobar before proceeding for his higher education in Delhi. He finally retired from the coveted position of the Director of Centre for Social Studies, Gujarat.
The elite daughter of identical father after doing her PG in Sociology felt penchant towards acting and took up theatre as her profession after obtaining required training in Delhi. Since then she is engaged in theatre, films and TV serials from 2012. 'Hindi Medium' is her second film, earlier being Bombay Talkies. (2013). 'Beyond the Clouds' being directed by Majid Majidi is her next film in pipeline.
Speaking about 'Hindi Medium' she told that it was a satire presenting the parental suffering during admission process of their children especially in elite English Medium schools. Irfan and Saba being rich go to stay in slums to fetch a quota seat under BPL category in an elite school in Delhi.
She told, "The experience of shooting with actors like Irfan, Deepak and Saba was enriching and is a master class in itself for me'.
Swati has visited Port Blair on many occasions in connection with family get-together and performing other rituals.