News courtesy Andaman Sheekha ::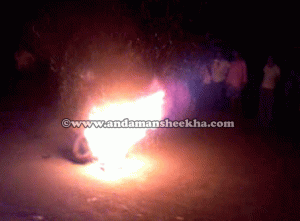 Trinath
Billiground, May 19: Power cuts in the North & Middle Andaman today triggered a massive protest at Billyground Bazaar against Electricity department.
Presently the Billyground region is experiencing several hour long power cuts and when questioned by the frustrated public the questions remain mostly unanswered by the concerned JE or AE.
The Pradhan, Billyground, when asked the reason for the power cuts to the JE& AE of the area he also did not get any reply.
Following this about 250 residents around 06:30 pm today gathered at Billiground Bazar and organized a protest rally against the electricity department.
After a protest rally, effigy of the Executive Engineer of the region was burnt by the general public.
The situation might have gone uncontrolled but due to the vigil action taken by the SHO, PS Billyground the situation remained under control.
Pradhan, Billyground informed that if the situation is not normalized till tomorrow the protest will continue and if the situation goes beyond control the JE & AE of the electricity department will be held responsible for any action by public.