News courtesy Andaman Sheekha ::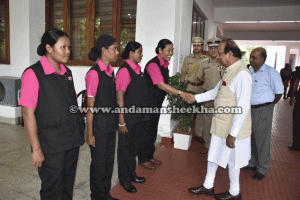 Port Blair, May 19: The Lt. Governor, A&N Islands, Prof. Jagdish Mukhi today flagged off Pink Police Patrol, a unique initiative by the A&N Police which shall be dedicated to ensure women safety/security and inculcate positive relationship between the police and the society at large. The Pink Police Patrol vehicle will operate with female staff for conducting patrol at Educational Institutions and Park areas in and around Port Blair area. The key features of the Pink Police Patrol are as under:-
Pink patrol will be an all women police unit headed by a lady officer and fitted with all communication systems. The vehicles will be deployed with the prime objective of extending additional assistance to women, children and senior citizen in distress.
The patrolling by this all woman unit will keep an eye on any undesirable activities like eve teasing, hooliganism etc.
Pink Patrol will sensitize the general public, students and the community regarding the rights of women and children and their safety related issues.
Pink Patrol will actively involve itself in specified cases of missing, runaway or stray children and women with the purpose of tracing them. For this purpose, they will liaise with District/CAW Cell for rehabilitating them through various institutions. They will also visit victims of crime against women, for aid & assistance.