News courtesy Andaman Sheekha ::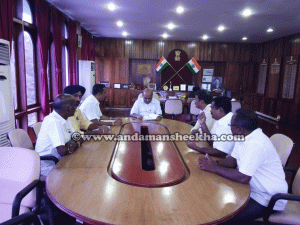 Staff Correspondent
Port Blair, May 19: A group of Zilla Parishad member of South Andaman region today met the Chief Secretary and expressed their concerns over four major issues of Andaman and Nicobar Islands viz dilapidated ATR, Power Crisis, curtailment in PDS items and over use of pesticides in fields.
Mr. Subir Chander, Zilla Parishad member of Tushnabad constituency has also written a letter to the Lt. Governor and raised demands on these four issues. In his letter he said that if his demands are not met within 10 days the General Public will organize mass dharna and ATR blockage to press this demand.