News courtesy Andaman Sheekha ::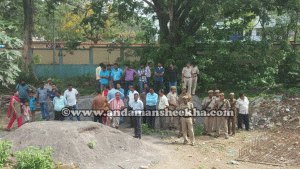 Sarthak Kanjilal
Port Blair, May 19: The residents of Phongy Kyung today staged a protest at their area where the Audit Department is constructing a retaining wall, which had collapsed a few months ago. The protest continued till late 07:30 pm.
The residents of the area have been demanding two meter wide land from Audit Department for construction of an exit road for Phongy Kyung but denial of Audit Department has now triggered protest.
More than one and a half months ago the District Magistrate had also reportedly given a stay order to the Audit Department for constructing the retaining wall as there were huge objections from the residents of the area.
But when today again the Audit Department started the work after completing all the formalities like taking protection from the police and by some other orders the fuming residents staged a peaceful protest till 06:00pm and then entered the area of construction and stop the work.
The Deputy Superintendent of Police with a huge force also tried to control the situation till late evening but when the situation went out of control at around 06:00pm the Sub Divisional Magistrate and Additional Divisional Magistrate reached the spot and after a long discussion with the Ward Councillor Mrs Protima Banerjee and Ex- Councillor of the Ward Mr Aziz-Ur-Rehman the SDM and the ADM consulted the Director, Audit Department after which he agreed to stop the work for next two days.
It is learnt that the delegation of the Councillor and Ex- Councillor of the area will meet the Lt Governor for his interference in the issue.
Talking to Andaman Sheekha, the Councillor of the area Mrs Protima Banerjee and Ex-Councillor Mr Aziz-Ur-Rehman said that the Phongy Kyung area is a highly populated area and has not exit road to escape at the time of any disaster.
They further said that if the Audit Department give them a 2 meters wide land from their area, it will cost them nothing but it will be beneficial for the residents of the area.
It is learnt that the Councillor has also assured that if the Audit Department will give them the road then PBMC will construct the Retaining Wall from their own fund.