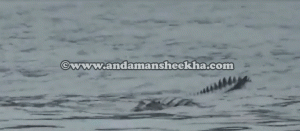 John Wilbert & Vinod
Port Blair, June 02: More than two Crocodiles were sighted near Junglighat Jetty this afternoon, triggering fear among public and tourists present near the Jetty. A lot of tourists were found clicking photos of these crocodiles, which might send a wrong signal about Andaman Tourism in National Level.
People who work near Junglighat Jetty were clearly afraid and demanding immediate shifting of these crocodile to any other safe locations.
Talking to Andaman Sheekha, the worker of a private boat said that a lot of people take bath in sea near Junglighat including children on regular basis and these people now may fall victim of these crocodile anytime.
"The Forest Department must catch these Crocodiles before someone falls victim of these crocs," said the private boat worker.
Another worker in the Jetty said that he is watching these Crocodiles since past one month and he has also informed the Forest Department but nothing has been done yet to catch these crocodiles.