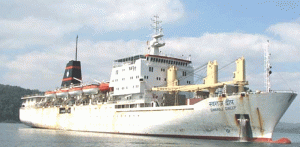 DJ Venkatesh
Port Blair, June 05: Passengers who reached Chennai today by MV Swaraj Dweep had a horrible experience this time travelling from Port Blair to Chennai as this journey took seven long days that too in this bad weather.
According to details MV Nancowry was earlier scheduled to sail for Chennai on 30th May and MV Swaraj Dweep was scheduled to sail for Vizag but instead of the schedule, on the last moment, MV Swaraj Dweep was sent for Chennai by the Directorate of shipping services.
As per the schedule, now MV Swaraj Dweep was scheduled to sail for Chennai directly but at the last minute DSS re-routed the ship via Katchal and Campbell Bay Island.
This last moment decision actually became a source of huge disappointment for the Chennai bound passengers, which they missed anyhow.
Many questioned that when MV Nancowry reached to Port Blair from Katchal on 30th May itself, then why Chennai bound passengers were not brought to Port Blair in that ship instead of routing MV Swaraj Dweep to Katchal and Campbell Bay. There was no essential cargo and hence MV Swaraj Dweep could reach Campbell bay while its return journey.
Moreover after reaching Campbell bay the Pilot of the ship reportedly refused to berth the ship after 6 PM, so overnight vessel has to wait in anchorage to pick up the passengers in the next day morning, causing loss of more night for passengers because of this unplanned sailing to Campbell Bay Island.
The passengers' misery did not end here, due to unfavorable weather one more day was lost in the sea and finally today morning at 7 AM on the seventh day of its sailing, the ship reached Chennai.
Total 956 passengers reportedly travelled in this sailing in which 19 were from Nancowry Island and 121 from Campbell Bay Island.
Since years the Air-conditions are not working effectively in this ship. Instead of dry docking in 2014-15 the average speed of the ship is 16 Knots as per manual but now the ship is maintaining 9 knots as average speed, it is learnt.
As per sources newly ordered two ships from Cochin Dockyard will be delivered only after two years and till then people believe the misery of passengers will continue. Public expect that atleast proper planning can save them from a lot of trouble, but the question is whether anyone in Administration really care for ship passengers.