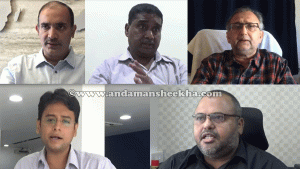 Sheekha Bureau
Port Blair, June 08: While entire India is too excited about GST, business community of Andaman and Nicobar fears that GST will make Andaman and Nicobar islands the most expensive place in entire India, putting extra burden of price hike on people of these remote Union Territory.
Since beginning Andaman and Nicobar Islands never had any major service tax or VAT. Local businessmen instead of paying VAT used to pay Central Sales Tax of 2% while bringing goods to Port Blair.
At Port Blair port there was only 6 percent octroi and added transportation as well as heavy freight charges, which used to equate the VAT tax savings and hence rates of commodities were more of less same in Andaman and Nicobar Islands as it was in Mainland India.
Local businessmen now fear that GST will change the entire equation for Andaman and now, while the rates of commodities at Port Blair will be same the people of these Islands will have to shoulder the burden of transportation and freight charges which will be around 10 to 15 percent extra. Hence most of the goods will be expensive than rest of India.
Experts fear that GST will have different impact on goods with MRP and goods without MRP.
While Goods without MRP will certainly be costlier than rest of India, cost of Goods with MRP will depend upon the company concerned.
"While big companies will shoulder the burden of transportation of goods to Andaman many companies will stop sending goods to Andaman as they will not be able to afford the freight and transportation cost. Others may put a different MRP tag on goods to be sent to Andaman," said Mohd. Jadwet, former President of ACCI.
Not only this the GST will also leave adverse impact on Andaman Tourism and Service industry.
"On food and beverage the hike will be from 9 percent to 18 percent. It's double. On Rooms it is going from 12 percent to 28 percent. This is very big impact. As such we are struggling for surviving because of high fare high tax. For extra hike tourists have to suffer the Hotel Owners will not suffer the tour operators will not suffer," said Mr. G Bhasker, the President of Hotel Owners Association of A & N Islands.
"This is too much high for Andaman tourism as we are presently competing with South East Asian Countries this may have adverse impact on Andaman Tourism," said Mr. Ahmed Hasim Badat, well known Chartered Accountant of A & N Islands.
Moreover some tourism activities such as diving and game fishing which were not under any tax will also come under GST now, making entire tour package for Andaman much much more expensive than rest of India and South East Asian Countries, with whom Andaman Tourism is presently competing.
Now Andaman's business community is demanding a different GST Slab for Andaman and Nicobar Islands so that the added burden which will fall on Andaman from July 01, comes down to an affordable level .
The Car Dealers will be worst hit after GST it is feared. According to apprehensions after GST local distribution network of car can be bypassed as now anyone can bring a car from Mainland India and pay the freight charge as rate of Cars in Andaman and Mainland will be same and customers will have to just pay the freight extra.
"Big Car Dealers who are selling cars in Mainland India can give good offer on cars and hence there is a serious threat to local Car Dealers," said Mr. Sagar Khurana, one of the leading Car Dealer in Andamans.
"We have given representation to the Administration and demanding a special status for Andaman as far as GST is concerned. We have requested to keep GST on hotels at 12 percent, in that case hike will be 9 percent to 12 percent which is not very substantial. We have also requested that being a remote area Andaman always enjoyed a special status and non VAT area and customers got benefit of that. We have requested the Lt. Governor to give special status to Andaman," said Mr. Girish Arora, the President of Andaman Chamber of Commerce and Industry (ACCI).