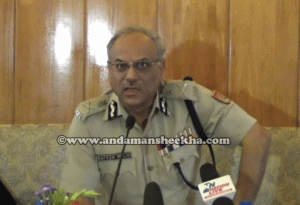 Port Blair, June 09: The main objective of the Andaman & Nicobar Police was Community Policing in the last two years, said the Director General of Police, ANP after he has been transferred to New Delhi after holding the post for almost two years.
Addressing a Press Conference in the GOs Mess, Police Headquarter this morning at around 11:00 am, the DGP, Andaman & Nicobar Police, Mr Rajesh Mallick said that focus on Community Police has decreased the gap between Police and General Public resulting into a good co-operation between the duo.
"Andaman Nicobar Island being a strategically important part of the Country the Police has given proper attention in the area also," said the DGP.
Mr Rajesh Mallick, DGP, ANP took up a number of initiatives during his tenure. For the safety and security of Women, Pink Police Patrol vehicle was operated by the ANP with female staff for conducting patrol at educational institutions and park areas in and around Port Blair City.
The DGP being a techie follower also launched an android application "SAJAG" for the Safety of Women and Children.
Not only this, the Director General of Police also focused on awareness campaigns and created awareness among the public on cashless and digital transaction. All the units of ANP also enthusiastically participated in the Swachh Bharat Campaign and ensured proper cleanliness in their respective office premises.
The DGP have also given proper attention for the welfare of the Police Personnel and so taking a step towards digitalization, the allotment of quarters to the needy Police Personnel was done through e-quarter allotment.
Mr Rajesh Mallick also enhanced the Central Police Canteen in various parts of the islands for the benefit of the Police Personnel.
A number of appointments in the ANP was done during his tenure and also many promotions of Police Personnel was done during the tenure of DGP, Mr Rajesh Mallick.
A & N DGP's Insignia has also been rewarded to the excellent performing Police Personnel. Overall, the DGP worked more on the infrastructure development and technology in his tenure which was also highly appreciated by the General Public.