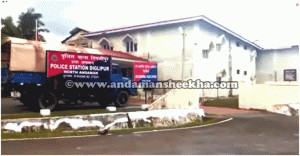 Sheekha Bureau
Port Blair, June 13: The sexual harassment case against DFO of Diglipur is taking filmy twists. Firstly after FIR the said officer vanished in thin air that too in a small place like Andaman and local police after all possible genuine or otherwise, efforts could not trace him before Monday, but by that time he already got anticipatory bail till 16 June 2017.
Now it has been learnt from reliable sources that four fresh FIRs have been registered against the said DFO at Diglipur Police Station, by four different women, whose names were mentioned in first complaint by the first complainant.
It is still not clear that how Andaman and Nicobar Police failed to track one person from a place like Andamans, when he was actively working to get a bail from court. Involvement of some departmental staffs in this case can't be ruled out.
In case of molestation by an ordinary person the person is caught in no time but in case of senior officer, why police fails to find him, is a million dollar question.
Usually in cases of sexual harassment lady police officers are made Investigation Officer but in this particular case for reasons unknown male Police Officers have been made IO.
Senior Police officers are tight lipped in this case and are not willing to come on the record in this case. Hope after four more FIRs, the Police Department will now do justice with this case.